News & Events
---
The All-New SRT Viper Has Been Released
April 5th, 2012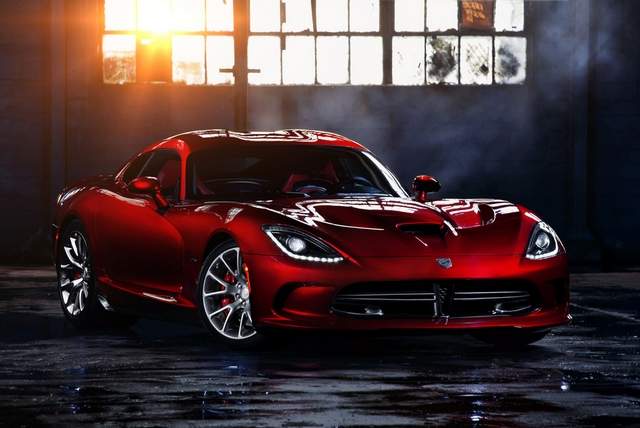 Overview



The 2013 SRT Viper is all-new, from front-to-back and top-to-bottom, from the lightweight carbon-fiber roof right down to its road-scorching wheels. It features less weight, stiffer chassis, a more powerful engine, beefed-up close-ratio transmission, more powerful brakes and new electronic technology. It's all wrapped in aggressive exterior styling with gorgeous interior design, materials and appointments to make Viper more comfortable and capable, better riding, more agile and faster accelerating to a higher top speed. Advancements in materials and engineering lead to a new output of 640 horsepower and 600 pound-feet of torque.



Features



Functionality and comfort adorn the interior of the Viper with amenities including cruise control, Bluetooth, USB, SD and auxiliary connectivity, automatic temperature control, keyless entry/start, automatic headlamps, electro-chromatic rear view mirror, color touchscreen interface, up to 19-speaker audio system and embedded navigation.

The fifth-generation SRT Viper is the latest and greatest in a long line of Vipers. It keeps its legacy of outright performance while incorporating superior craftsmanship. A host of new technologies and ergonomic improvements are present in a new, more powerful and lighter-weight vehicle. It's the Viper for the 21st century.





Powertrain



The updated V-10 engine has an estimated power rating of 640 horsepower at 6,150 rpm, an increase of 40 horsepower over the 2010 Viper. Producing 600 lb.-ft. of torque at 4,950 rpm, the Viper puts out the most torque of any naturally aspirated sports car in the world.

Viper's legendary 8.4-liter V-10 engine features a new composite intake manifold, lighter forged pistons, stiffer pushrods, a revised camshaft profile, sodium-cooled exhaust valves and freer-flowing exhaust catalysts - all contributing to the 40-horsepower increase.

The new intake manifold is tuned using computational fluid dynamics (CFD), a high-performance computer-based simulation that has improved everything from Formula 1 car aerodynamics to nuclear submarine performance for silent running. The new forged pistons are not only lighter, but stronger and more durable to ensure precise piston/cylinder wall tolerances for consistent ultra-performance on the road and at the track.
Viper Powertrain